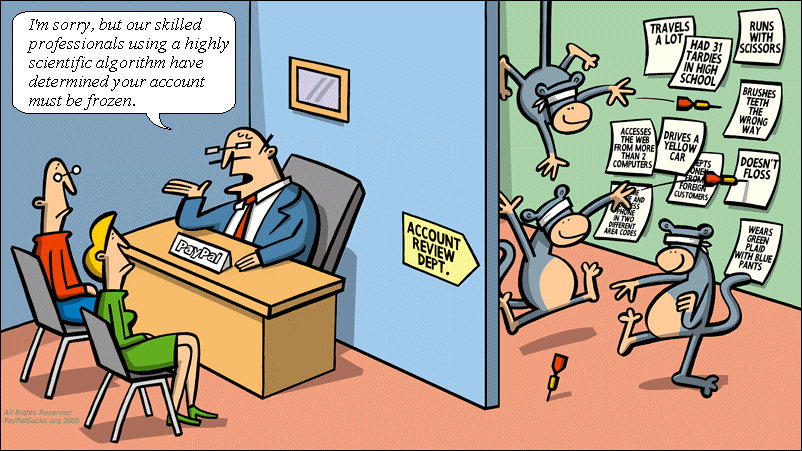 PayPal sends these types of EMAIL all the time:


PayPal as a regulated financial services company is required under law to assess its customers against certain lists of individuals and entities which have had sanctions imposed against them. PayPal as a financial institution is required to comply with these regulations in multiple jurisdictions where we do business.

Where a potential name match is identified, PayPal's policy is to lock the account and request further identifying documentation. The decision to lock your account has been taken solely by PayPal in line with its compliance policy in regards to the legislation covering financial sanctions.
We decided to take a closer look at this and started a Google search regarding PayPal freezing accounts. We came across a couple of sites that host, "
PayPal horror stories.
" One story really struck me. Apparently, PayPal has had terrible dealings with customers in the past. Complaints range from unnecessary locking of accounts and/or funds, to mishandling of their customer's money. PayPal went to court for this. They were forced to pay $9.25 Million Dollars in damages to more than 10,000 PayPal accounts. PayPal simply walked away after paying the settlement.
A little further into the Google Search I discovered that PayPal has been known to
block donations
for the Katrina victims, up to $30,000, from the popular
website something awful
. One word for the victims: Ouch.
It's understandable the need to safeguard the company and to point out fraudulent use whenever it occurs. However, PayPal really needs to get better at it and change its practices if it plans to have loyal customers in the future.
For people who are in need of a merchant account,
check this place out
. For those of you that need to transfer money worldwide,
iKobo
is a great alternative.
Hilarious Monkey Picture courtesy of
www.dotmana.com.